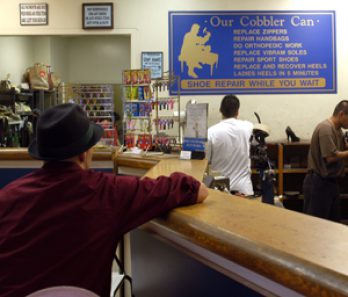 M
ost quality leather shoes are designed to be refurbished. Cobbler's Bench Shoe Repair can restore them to like-new condition. Our materials will wear better than those from most shoe manufacturers. Think of it as reinvesting in a prized possession.
When you bring your shoes into Cobbler's Bench Shoe Repair, our expert craftsmen:
Remove the worn soles, heel bases and top lifts.
Remove the worn cork footbeds and leather welts.
Replace the welts and and re-cork the footbeds.
Replace the soles with quality leather.
Install new leather heel bases and premium toplifts.
Deep clean the leather upper to remove the dirt and built-up polish.
Apply leather conditioners to restore the oils that make it soft and supple. This reconditioning process adds years of life to your shoes.

We Clean and Repair Uggs
Re-color or re-antique the upper and seal the leather with a long-lasting, water-resistant factory finish. Your footwear will look like new again.
Cobbler's Bench takes pride in giving your shoes that new-shoe look, not a repaired look. We use better materials than the original manufacturer. This process takes less than 10 working days from start to finish.