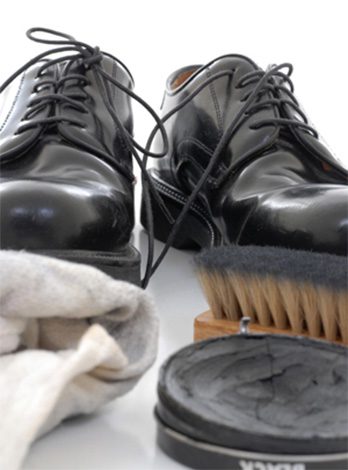 CAring for Your Shoes
I
nvesting a few minutes each month in shoe care is the best thing you can do to protect your footwear investment. Combined with regular visits to your local shoe repair shop, shoe care will significantly extend the life of your favorite shoes.
Many people think shoe care means polish shoes occasionally. Actually, it is slightly more involved than that. Caring for your shoes is a four-step process — cleaning, conditioning, polishing and weatherproofing.
The first step in shoe care is to clean the surface with a leather cleaner to remove surface dirt, just as you would wash a car before you wax it. After cleaning, you should condition the leather. Conditioners soften and lubricate leather, keeping it feeling and looking new.
Once the shoes have been cleaned and conditioned, then it is time for polish. Polishes contain dyes and pigments to renew color and cover scuffs; waxes to provide shine and protection; and conditioning agents to moisten and renew the leather.
There are basically three types of polish — liquid, cream and paste. Liquids are easiest to apply, followed by cream and paste. Ease of application, however, is inversely proportional to wax content and the staying power of the polish. Pastes hold up the longest. Creams are easier to apply than paste, hold up longer than liquids and come in a variety of fashionable colors.
The final shoe care step is weatherproofing. Though polishes provide some sealing qualities, if you live or work in a wet, muddy or oily environment, the added protection of a weatherproofer is a must.